When:
April 24, 2017 @ 6:30 pm – 9:00 pm
2017-04-24T18:30:00-04:00
2017-04-24T21:00:00-04:00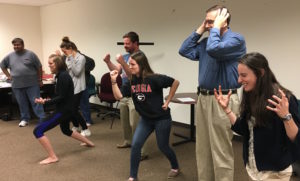 Curtain Up! Anxiety Down! is a unique program to help people with social anxiety, shyness, isolation or difficulty speaking to groups. It will involve improv fun, theatrical play and group therapy to work with people who are wanting a safe and supportive environment to work on similar issues.
This class session will run for 12 weeks ending on Monday, December 5. It will be led by Lesly Fredman and Murray Dabby LCSW.
Each class will include a 90 minute improv experience followed by an 1 hour-long opportunity for group members to safely process the experience. The class activities will progress from simple play to more elaborate experiences based on the needs of the group. The sharing group sessions will explore our reactions to the exercises as well as how the playful lessons learned in class can be used in everyday life.
An initial consultation may be required for each participant prior to the first class to help insure the experience will be a success.
Class size will be optimal for members to have a positive and productive learning experience, with space limited to 8-12 participants.
Please call us for fee structure. There will also be an opportunity for partial scholarships, based on need.
For more info or to register visit our website at http://www.curtainupanxietydown.com or call Murray at 404-633-3282, ext 1 or Lesly at 404-377-3749.